Hi all! I just joined, oh about 1 minute ago, and I thought I'd introduce myself as this community needs some activity!

I'm a Dressage Queen-turned-Saddle seat Maven (okay not QUITE yet but I'm getting there) that lives in Massachusetts, and I'm riding Morgans. My trainer is aiming me for the pleasure ring, and we're already talking about shows this season, which after riding hunter/jumper and dressage for almost 16 years and only showing once is a biiiig deal to me because I want to show! I had my second lesson yesterday and each time, the lesson gets better and I feel better up there and my body is adjusting to the position better. I still have lots of trouble with my heels, and sitting back in the cutback, and just my lower leg position in general (not to mention it is SO WEIRD to squeeze with my thighs!), but the season is a ways away and I have faith!

Anyway, I'm riding at Burkland Farm in Rowley, MA, which was the late S. Robert "Doc" Orcutt's farm--Morgan people should recognize his name. His grandsons are running the farm, and I'm riding with the older of the two, Joshua Noble, son of a well-known MA vet, Helen Noble, DVM. Josh is an awesome guy, knows a lot and has made me fall in love with the Morgan breed. Previously, I'd taken 3 lessons on American Saddlebreds in Kentucky (scattered over a couple of years), and wanted to find a barn in Massachusetts that had Saddle seat Saddlebreds, but after talking with Josh, and really hitting it off with him, I made the move to Morgans. Man am I glad I did! But, he will be getting some Saddlebreds in for training, so it'll be nice to get up on them again.

I also come bearing some pictures from yesterday's lesson; I handed Josh a camera and told him to have fun! Fun included getting the whip out and making firecracker noises, and I totally loved it. I can't wait for next week (double reins, gah!), I'm so in love with this discipline that I never want to get off. Please excuse the sneakers, when Josh rode with the Shively's in Kentucky he rode in sneakers to help with his heels, and now I need to do that, too (he was so happy when he saw I had sneakers on, he says I'm becoming a hardcore SS rider LOL). I don't have jods yet, but since it's been so cold I've been riding in my winter full seat breeches and half chaps (which aren't helping my legs LOL), but the jods are coming!


Taurie was beastly at first. She has a phobia of water, and was like "SNOW GOING TO EAT ME!" and she gave a little buck to protest me making her walk along the rail of the round pen. Silly mare. These aren't in any particular order, except bad to good haha.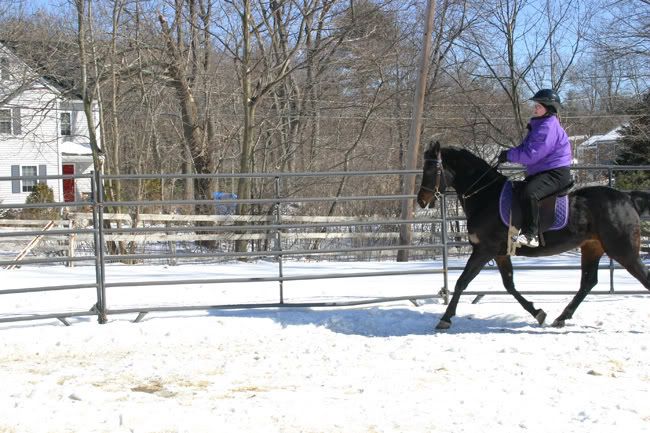 ew bad trot. c'mon taurie pick up those hooves!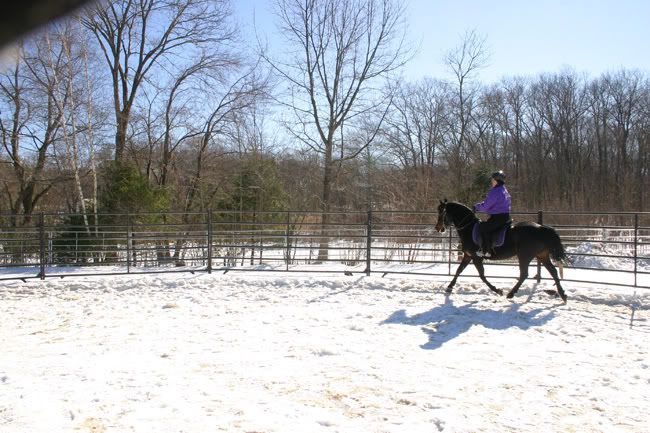 another bad trot.



whoops, josh cut us off! still bad trot.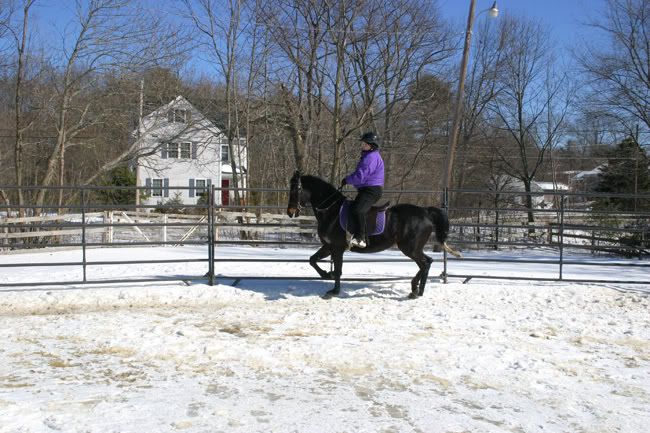 as josh would say, "there you go!" i'm not sure if he had the whip going and was still making firecracker noises, but he was trying DAMN hard to get awesome pictures for me. :-D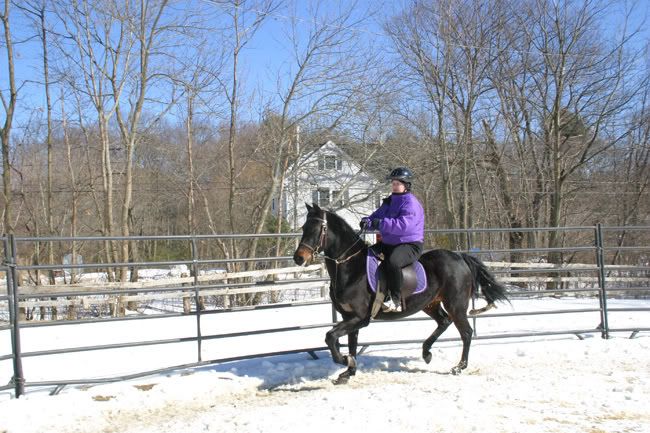 still picking up those legs! she's not a park horse so she'll never break the level, but still, she's very elegant and pretty when she's going right.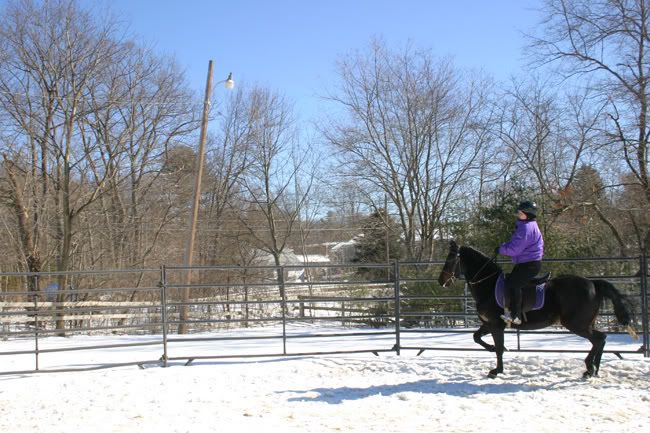 whee go taurie go!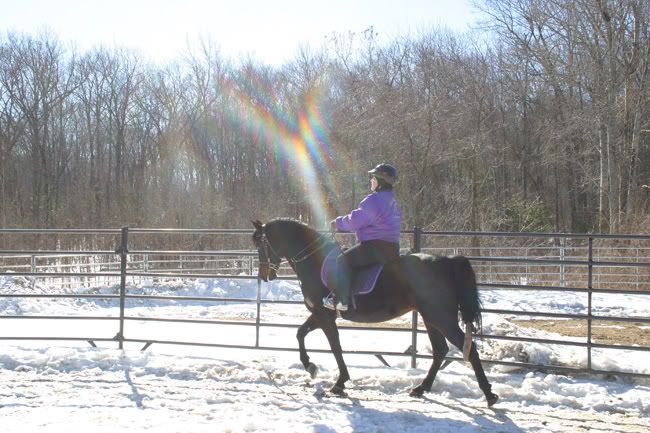 nice long walk. :D


Sorry to those that have already seen these, whether in
equestrian or my personal journal. Feel free to add me as a friend, too, I'd love more Saddle seat riders on my list!